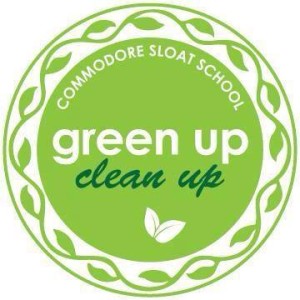 Commodore Sloat usually holds three Green-Up Clean-Up days each year. The first is usually held the Saturday before school starts in August, to spiff up the school and help the teachers get their classrooms spic and span. Families weed, sweep, pick up trash, water plants, dust in classrooms, tune up computers, and then some.
The other two Green-Up Clean-Ups are held during the school year, also on Saturdays. They're not only a great way to beautify the school, but also a good way to tackle big projects or repairs that require many hands.
Green-Up Clean-Up is a great community event and an important opportunity to make a significant contribution to the school. The day begins at 10 am with coffee and bagels, then off to work! Lunch will be served around noon for all volunteers too!
This is a great event to bring your kids to help as well! Kids always love to help in the garden or help their teacher in the classrooms. Even if you can make it for just an hour-every little bit helps!
The PCO invites each and every one of you to attend our yearly events, which help build and strengthen our school community at Sloat.  Please consider also volunteering and helping us make them extraordinary.  If you want to know who is in charge of an event, to ask questions, or volunteer to help please send an e-mail to greenupcleanup@sloatparents.org.
Please view the Calendar link for exact dates.