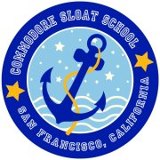 Commodore Sloat in conjunction with Green Mouse Recycling, presents an e-waste recycling event!
WHEN? Jan. 10th 2015
WHERE? In the Commodore Sloat School play yard, at the corner of Ocean Ave and San Fernando Way
WHY? To assist in keeping our environment healthy while enriching our in-schools programs at Sloat Commodore: Poetry, PE, learning garden, etc.
The Three "Rs" that help keep our environment healthy.
Reduce: Drop off all your unused electronic items (free of charge) and be assured they will be disposed of properly, reducing the dangerous materials in our landfills.
Reuse: Drop by and take a look at our "re-use" table and purchase items you might need… All proceeds will go directly to Commodore Sloat Elementary.
Recycle: Drop off your used electronic items and some of their components will be used in refurbished products.
Common Items accepted (please visit www.
Computers/Laptops/Servers
Televisions/Monitors
DVD/CD Players
Fax Machines/Printers
Toner Cartridges
Telecom Equipment/Telephones/Cell Phones
Speakers/Stereo Equipment
Copy Machines
Wire/Cabling/Printed Circuit Boards
Aluminum/Scrap Metal
Microwave Ovens/Appliances
Batteries/Fluorescent Lights (call for charges)
For more information on recycling visit www.greenmouse.com