What is the auction?
Every year Commodore Sloat holds its annual auction to fundraise for our students. The auction is a blast – an adults-only event with amazing food, drinks, and where donated goods from our community are sold to the highest bidder. We also have a live auction that includes artwork from our students' classrooms. The funds raised go to support technology, Education Outside, art, music, theater, PE, teacher supplies, professional development, field trips and much more!
Again this year, there is a special feature to the auction. We are encouraging local businesses to sponsor the event to help cover the costs and provide extra support for programs and resources. There are two levels; Anchor level at $5,000 and Seal level at $2,500. If your company or the company you work for is interested in sponsorship, please contact Mary Wilson for more information.
Spring 2019's Auction Theme will be. . . Fiesta!
Please join us Saturday, March 2, 2019 at Donworth Hall; 473 Eucalyptus Dr, SF, CA 94132 for what is sure to be a night to remember.
Ways you can help:
-Join the auction committee
-Solicit donations from local businesses
-Help set-up or break-down the event
-Host a buy-in party for kids or adults – (Click here to read more)
-Work with the classes to create the coveted one-of-a-kind classroom art projects
-and BID BID BID!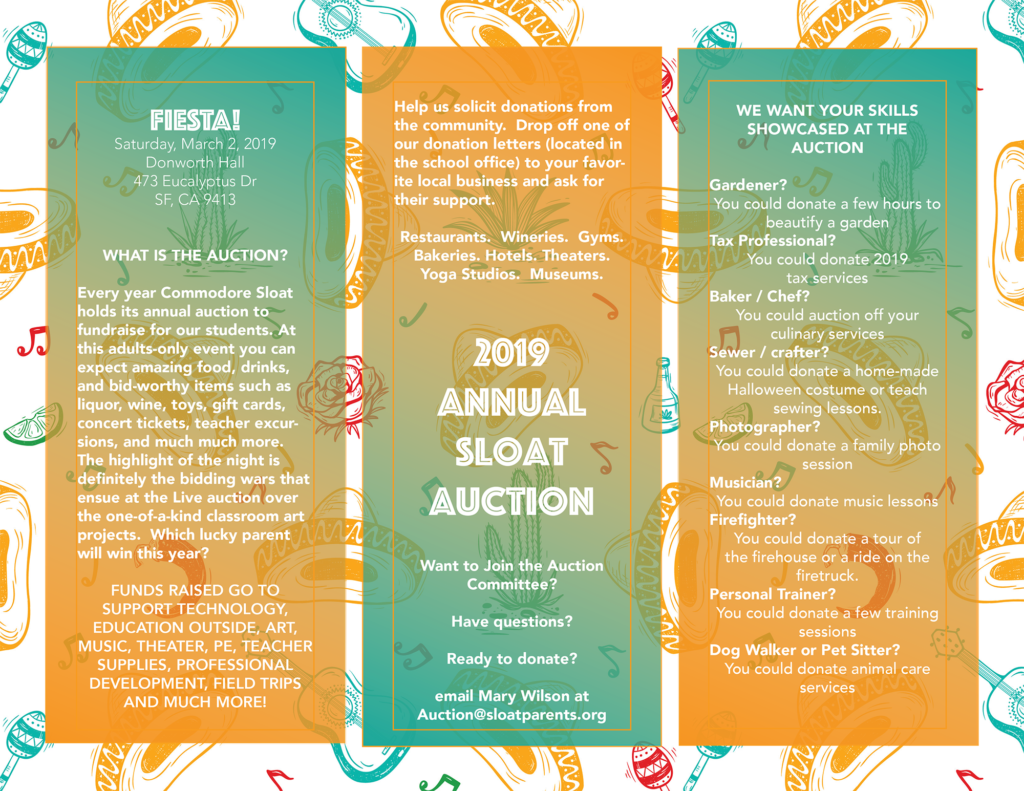 The PCO invites each and every one of you to attend our yearly events, which help build and strengthen our school community at Sloat.  Please consider also volunteering and helping us make them extraordinary.  If you want to know who is in charge of an event, to ask questions, or volunteer to help please send an e-mail to volunteer@sloatparents.org.