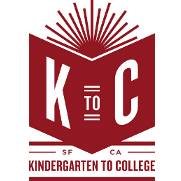 Attention all Kindergarten Parents!
Children with college savings accounts are six times more likely to go to college than those without.
The City and County of San Francisco is partnering with the SFUSD to open a Kindergarten to College (K2C) college savings account for every kindergarten student at our school. You will receive your child's account information in the mail in November with an initial deposit of $50 from the City and County of San Francisco. By contributing to your child's K2C account, you can earn over $200 in matching bonuses and incentives. For more information, visit www.k2csf.org, call 3-1-1 (within SF) or 415-701-2311, email info@k2csf.org, visit us on facebook.com/K2CSF or ask a staff at our school.
If you have a child in 1st or 2nd grade, your child already has a K2C college savings account opened! If you have misplaced your child's account number, please contact us at the number listed above.